Realizing your dreams
made simple
Select a need, and we'll show you how you can achieve it.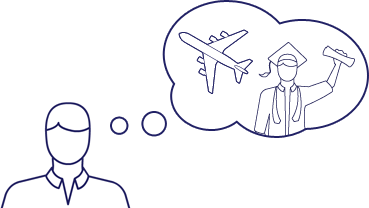 Get a
new car
Emergency
loan
Take a
vacation
Education
Loan
Grow your
business
Take a trip
back home
Start a
new life
Buying a car in the UAE
The UAE is one of the best places in the world if you want to buy a car. To start off, it's rife with options -both new and pre-owned. Cars here are also slightly cheaper when compared to other countries. To top it all off, once you finally get behind the wheels, fuel is extremely affordable!
Here's a useful guide to help you along your way as you bring your dream car home. The most important thing you have to note is that you need a residence visa to purchase a car in the UAE.
Making the decision
Well, the first choice is whether you want to go for a new car, or a used car. If you're buying a new car, do not expect to be able to resell it for anything remotely close to the actual price. Due to the arid weather conditions, cars do seem to get older faster in the UAE, and hence there is a pretty high rate of depreciation – close to 30%.
Buying a new car
But all said and done, if you do have your heart set on acquiring a new set of wheels, there is definitely a wide selection on offer. There are innumerous franchised dealers all over. While SUVs and 4x4s are immensely popular, you will easily find a range of saloons and smaller cars as well. Most car dealers would give you a great deal – often throwing in a decent one year's worth of insurance and a service warranty period. Especially around Ramadan and Eid period, there are a number of excellent offers floating around.
What to check
It is essential that you buy cars that have "Gulf specs" to make sure that the air conditioning, gear box cooling and engine maintenance is easily accessible and easier on the pocket.
Buying a used car
Due to a high number of expats coming and going, you'll find that the pre-owned car industry is pretty much booming in the UAE. There are a huge number of options at your disposal - the numerous used and pre-owned car dealerships, auction houses and thousands of private sellers, to name a few.
What to check
Before buying a used car, make sure that you inspect it with great care – both externally and internally, especially for corrosion, the number one used car destroyer. Check for creases or repairs at the forward chassis and engine bay forward panels as well. If possible, get a detailed diagnosis report from your dealer. And not to forget – verify the engine plates with the registration papers!
You also need to make sure that the previous owner has paid all the outstanding fines on the car, which you can check on the police websites.
While all car dealers are not swindlers, it is best to take their sales pitch with a pinch of salt, and do the background checks yourself – consult a mechanic if you must.
Good luck on the new car search adventure!
We at Simplylife can make buying a new car really simple for you. We can offer finance for up to 80% of the car value. Whichever option you choose - a new car, pre-owned or rental - you can borrow a maximum amount of up to AED 1,500,000, and repay at your convenience in up to 60 months! Find out how>>>
Dealing with an emergency
An emergency can occur anytime, anywhere. From fainting spells to seizures, bleeding, choking or chest pain - a majority of us do not know what to do when these emergency situations occur, and are often crippled by fear.
The best way of coping with such situations is to take a deep breath and tell yourself that you can handle it, and doing whatever it takes to save a life in danger. Here are some common emergency situations and the best ways to deal with them.
Fainting
There are a number of causes for fainting and dizziness, and these could include everything from heatstroke, pregnancy, heart attack, diabetes or low blood sugar. As soon as a person faints due to any reason, the best course of action would be to call for medical assistance via 998 or 999, the helpline numbers.
Immediate steps:
Make sure that the person is lying comfortably. As you wait for the medics, take the person's pulse, either at the wrist or the neck. Also check for breathing, by listening near the nose, and watching the chest rising and falling. If the person does not have a pulse and is not breathing, you will have to start CPR. Position their head with chin up, make sure that their tongue is not obstructing breathing, and start chest compressions.
Choking
This is one emergency that occurs commonly at the dinner table. All of a sudden, a person starts coughing, and goes breathless. Doctors say that as long as the person is coughing, the situation is under control because their air passage is not completely blocked.
Do not perform the Heimlich maneuver if the person is coughing, because it can potentially make the situation worse. And definitely do not slap the choking person on the back, because that could drive the food back into the windpipe. See if the blockage gets cleared naturally by coughing. If the coughing subsides and the person goes silent- this is the time to perform the Heimlich maneuver.
Bleeding
Some parts of the body bleed a lot  the toes, the scalp, fingers. A nosebleed is another heavy bleeding situation. However, more often than not, you won't bleed to death, as the body contains more than nine units of blood.
Sometimes nosebleeds can be related to a serious underlying issue such as high blood pressure. Cases like these require urgent medical attention.
When a tendon is cut, the situation might be more problematic. You need to put direct pressure on the site by wrapping a cloth around and holding tight. Using a tourniquet might damage tissues, so just apply direct pressure on the site.
Seizures
Seizures can happen to different people - from epileptic patients to kids having very high fever to stroke victims. There are various symptoms – falling down, flailing about wildly, head jerking, fluttering eyes.
Seizures, regardless of the symptoms, are a serious business and warrant urgent medical help. Call 998 or 999, and as you wait for help to arrive, make sure the person does not hurt himself. Do not try to insert something in the seizure victim's mouth (as it is commonly advised), as this is too risky.
Simplylife offers a priority call back service in case of emergencies, just SMS 'emergency' to 2626 for a priority response. You can borrow up to AED 200,000 to help you deal with any emergency, with no salary transfer required. If you choose to transfer your salary, you can enjoy special rates and loans of up to AED 500,000.
Find out how>>>
A Trip to Remember: Planning a Great Family Vacation
When you're on a vacation with the people you love most in the world, it's definitely among life's most important moments - a collection of beautiful memories that last a lifetime.
Want to make your next vacation with your spouse and children one to remember forever? Read on.
Sit down. Talk about itg
Sit down with your kids and spouse, talk to them and find out exactly what they'd like to do. Remember, half the fun is the anticipation. Getting everyone involved right from the start just makes it all the more special.
Pack smart
Make a checklist of things you need to pack. This is an important list – especially when you're travelling with your kids. Right from travel documents to first aid kits to travel insurance information to medicines. Phone numbers of your doctor, dentists and medical insurance company are other essentials.
Plan ahead
Make sure all your passport and visa requirements are all arranged in advance. Plan for unforeseen events like cancellations, delays, illness and losing your luggage. Make sure you have a carry-on with your essential documents, a change of clothes in case of loss of luggage, and plenty of snacks and games for the kids in case of delays.
Be positive
Relax. Be in the moment, and take in every moment of this beautiful holiday with your family. If unexpected things happen, take them with a smile. Your kids are watching you, and they will learn a lot from how you deal with things. You'll also enjoy much more.
Pace yoursel
Make sure you set a comfortable pace - taking into account every family member's waking hours, individual preferences for enjoyment, food, dining, nightlife and other needs. Don't hesitate to be a little flexible - everything does not have to go according to the plan to be fun!
Still dreaming about that dream vacation with your family? Perhaps we can make it possible. A Simplylife Personal Loan is easy to avail, and will finance every aspect of your travel, including airfare, food, sightseeing and hotel accommodation.Click to know how >>>
Planning for your children's education
One of the best and most fruitful investments you could ever make is to save for your child's education. And the importance of having a plan for this just cannot be overstated. There are a number of inevitable expenses which will come up in the long, medium and short term that need to be accounted for, and the earlier you start planning, the better.
Do not make the mistake of focusing only on the higher education expenses. Early education can also form a bulk of the expenditure. There are three main stages in your child's education, and the expenses at each stage need to be thought about.
Tuition fees, after-school activities, stationery, school trips – every year, sit down and calculate the annual expenditure you will need to cover school costs. Find out the monthly equivalent you need to save to meet these expenses. When children move from primary school to secondary school, there is up to an 80% increase in the education costs.
Planning your children's education involves 3 major steps:
Step 1: Estimate the expenses.
There is an almost 10% increase in the expenses for education every year, which is much more than the current inflation rate. You need to take this into account. There are a number of free tools available online to help you estimate the cost for education.
Step 2: Make a long term savings plan.
Even minuscule amounts at this point will add up, and be a big relief at the later stage. Making the commitment to save regularly is more important. The safety of the principal amount should be taken into account, and the focus should be on getting a higher return. You can choose any interval you like – annually, quarterly or monthly. If you have a good savings plan, you get the dual benefits of building wealth as well as tax liability issues.
Step 3: Review and Iterate
Make sure you assess your plan every year and make sure you are making changes wherever necessary. Your calculations will change in case of scenarios like job loss, a second child, moving abroad, etc. – for instance.
As you go about planning, make sure you also involve your children. If your kids are part of the process, they'll understand the importance of both saving and education. Also, whatever plan you make, ensure that it is according to your kid's interests and aspirations. If you don't take that into consideration, you're defeating the purpose.
Want to give your children the dream education they deserve? Well, we can make it possible. No matter what your educational requirement, a Simplylife Personal Loan is designed to finance every one of your aspirations.
We believe in responsible lending and don't charge extra fees for early settlement of your loan.
Click to know how>>>
Starting your own business
Want to flex your entrepreneurial muscles? Well, you have come to the right place. The UAE is a shrine for business – its administration is efficient and it's licensing sleek. The lack of theocratic dogma makes it a welcome place for those wanting to establish themselves.
However, starting your own business is not just a matter of registering it and dealing with the paper work. Besides the legalities, it is something that requires extensive planning and financial decisions. Remember, an idea is nobody's monopoly. It is how you bring the idea to life is what that will make your business a success.
Research your market
What good is a product that doesn't sell? The first step would thus be to identify potential customers. Do some market research. Talk to people. Find out if your idea is really addressing the need of the hour.
Develop and plan
Nobody gets anything right in the first go. It's all about making your product, testing, getting feedback, going back to the drawing board, iterating – till you succeed. To get the correct feedback, you will need to test it with real customers.
Find partners and suppliers
Figure out whether you wish to be the sole owner, or if you want to find partners. You might consider partnering with somebody who can complement the skills and talents that you have. Also, you'll need to build relationships with suppliers, as you'll need to work closely with them.
Decide on a structure
Decide the legal structure of your start-up. Take some time to understand the pros and cons of each – whether you are a sole trader, or limited company. After setting up your business, you'll need to register for tax.
Get funding
Any business runs on capital. There are various ways in which you could approach this. There are bank loans, government backed schemes, venture capitalists, angels investors and a lot more ways of getting your business funded.
Dreaming of starting your own business? Well, perhaps we can make it happen. At Simplylife, we understand that timely finance is the key to maximizing business opportunities. Unlike the typical business loan, we do not require any collateral. Start up, diversify, expand, fund a project - our personal loan is customized to fulfill your every business need. Interested? Click to know more>>
Taking a trip back home: Shopping for gifts
Taking that annual trip back home? Congratulations! It's always amazing to be welcomed back home by the people you love you the most. And what puts the icing on the cake – is surprising your family and friends back home with gifts of all kinds! This article will give you a whole bunch of helpful tips to help you get the best gifts for all the folks back at home – right from grandpa to the little ones.
What to shop for, and where?
The malls here are open from around 10 am to 10 pm every day. On Friday, which is the official day or worship, there are some that do not open until 2 pm. The stores in the souqs close around noon and reopen at around 5 pm.
Perfume
Dubai is home to some of the best Arabian attars. These are some of the most unique scents in the entire world. However, if you are looking for international perfumes, there is no dearth of those either. Dubai is tax free, and hence you will be able to purchase French perfumes at a price lower than you would get at Paris!
Pashmina Shawls
These light-as-a-feather cashmere shawls are loved by women all over the world. Pashmina shawls come in styles and colours of all kinds. Pom-pom edging, beaded, embroidered - you will find the sheer number of choices absolutely overwhelming. Make sure you buy an authentic pashmina shawl and not a polyester imitation.
Carpets
Dubai's carpet souqs offer a range of modern and ancient carpets of the finest quality, that too at extremely reasonable prices. The traditional Persian carpets are definitely the finest – they are so exquisite that one would hesitate to lay them on the floor. There are cheaper options from India, Pakistan and even Afghanistan – all of which are of excellent quality.
Gold
Dubai has one of the widest ranges of gold ornaments, available both at the stores in the upmarket malls and the dedicated gold souks. There is gold jewellery of almost every conceivable purity and design. There are gold bars also available in varying sizes – gold bullion, small minter bars, ten tola bars, kilo bars – the choices are endless. The costs for making the jewellery will vary according to where you purchase it from.
Still dreaming about that trip back home? Well, book your flight tickets and shop for gifts with your SimplyLife Credit Card, and you can earn a straight cash back of 1.5% on all your spends! In addition, a SimplyLife Personal Loan can finance your entire trip! Click to know more >>>
Wedding – Planning a budget
A wedding is one of life's most important occasions. While it is human tendency to want to spare no expense for the grand event, a bit of planning can make sure that you do not drain all your life savings. No matter how much you may have saved for the wedding – making a budget is essential.
After compiling all your potential sources of finance which includes - you, your partner, your parents, your in laws and other family members, you should be able to come up with a realistic total budget. After figuring out the total budget, you can allocate various percentages to various categories.
Here is a comprehensive breakup of the common expenses incurred for a wedding, which you can use as a checklist:
Ceremony
The most important part of the proceedings is obviously the ceremony. However, this would not take up a large portion of your budget, as the associated costs are comparatively fewer. The costs of the ceremony would include the cost of the venue itself, as well as the costs for transportation to and from the venue.
The transportation costs would include horse carriages for baarat, limos, cars etc. for the bridal party, family members and other guests to and from the house of the bride or the hotel to the ceremony location. You might end up allocating no more than five percent of your overall budget to the actual ceremony.
Reception
Unlike the ceremony, the reception is definitely where most of your budget will be allocated. The budget for the reception will again include the cost of the venue, the transportation to and fro, and valet parking, if applicable.
Another major spending area is for the catering and servers inclusive of all tips and taxes, as well as the rentals for the event, such as tables, chairs, crockery etc. Almost forty percent of your overall budget should be allocated for the reception.
Music and other entertainment
Music is one of the most integral part of any wedding. DJs, live performers, Dhol, etc for the baarat and ceremony, cocktail nights and reception is another expense which could very well take up almost 5% of your total expense plan.
Decoration
Decoration is one aspect that takes up a decent portion of the budget, especially in an Indian wedding. This includes decorating the ceremony and the mandap, table linen and overlays, bouquets, flowers, centerpieces and others, and will amount to at least 15% of your wedding budget.
Apparel and Jewelry
Another major expense area – this will encompass everything from the bridal lehengas and sarees, lingerie, sherwanis/tuxedos, shoes, hair, makeup and jewelry. The entire allocation would be about 15% of the overall budget.
Photography
A good portion of the wedding budget goes in preserving the memories. Photography and videography – including making wedding videos, albums, CDs, videos, etc will roughly take up close to 10% of your budget.
Miscellaneous
Plan at least 10% of your budget on all those little expenses that keep adding up, including invitations, enclosures, thank you notes, postage, gifts, marriage licenses, dakshinas/fees etc. welcome baskets, etc.
At Simplylife, we can simplify one of life's most important moments with a tailor-made personal loan. You can borrow up to AED 200,000 without salary transfer. By transferring your salary, you can get special rates and amounts of up to AED 500,000.Find out how>>>